Archive for the 'Sports' Category
If the Phillies win this World Series, this is surely the game that everyone will remember.  After an afternoon of heavy rain, last night's game started an hour-and-a-half late and it didn't end until nearly 2 a.m.  By then, I was damp and chilled to the bone.  It didn't matter.  The Phillies kept it together, winning thrillingly in the bottom of the ninth to take a 2-1 lead in the series.  Jubilation!
I don't have any special insights into the play of the game.  MLB.com's coverage of the game is very good, and it details the crazy ninth inning—in which Eric Bruntlett (who relieved leftfielder Pat Burrell late in the game when the Phils had a good lead) was hit by a pitch, then stole second on a wild pitch, then immediately stole third when catcher Dioner Navarro's throw to second was itself wild.  After the Rays intentionally walked two Phillies to load the bases, Phils catcher Carlos Ruiz came to the plate and hit the first walk-off infield single in World Series history.  (This single occurred despite the Rays' use of five infielders.  In the stands, it took me a minute to figure out why one of the outfielders was running to the dugout.  He needed an infielder's glove.)  It was quite an end to a game that saw the Phillies take an early lead, only to let the Rays tie it in the eighth.  (The New York Times coverage of the game is good, too, and I read it as soon as I got home.  Also, check out the NYT's cool slide show.)
Earlier, as the rain came, in excess, in the afternoon, I wondered how I'd even get to the game.  A few minutes before I need to leave my apartment for the train station, I realized that service on the train line was suspended (thanks to some downed trees).  My seatmate was in Wilmington, having moved early in the day to a new house.  He wasn't, I knew, figuring on going out of his way to pick me up.  There was no doubt I was going to get to the ballpark, though, even if I had to take a cab from the burbs.  My seatmate rescued me, anyway, and our drive to the ballpark took us through torrential rain.  It seemed absurd to be going to a baseball game.
When we got to the park, we immediately got wet from the ankles down, as the parking lot was flooded.  I'd stay damp throughout the night.  At the ballpark, we eventually found a rail to lean on in the second tier (we were sitting in Section 204) and waited.  And waited.  An hour later, it was still pouring.  I started to hope the game would get rained out so I could come back on Sunday, which had a sweet weather forecast.  About 75 minutes after the game should've started, though, when it was still raining hard, the groundskeepers started taking the tarp off.  It seemed nuts.  But they knew what was about to happen: The rain was going to stop, and the game was going to start.  A little after 10 p.m., 45-year-old Jamie Moyer took the mound, and the game was on.
I can't say I enjoyed every minute of the game.  I enjoyed it when the Phils took the early lead, of course.  But after the rain left (and it did leave for good, before the first pitch), it was replaced by a strong, chilly wind.  I'd worn layers, but I guess I should've worn gloves.  My fingers, and the tip of my nose, started to hurt.  I kept warm by jumping up (a lot), clapping (a lot), and high-fiving my neighbors (a lot).  When the Rays tied the game in the eighth, though, I wondered how I'd survive too many extra innings.  I would've stayed as long as necessary, but it would've hurt.  Thanks to Eric Bruntlett and Carlos Ruiz, I didn't have to find out how much it actually would've hurt.
It was nearly 3:25 a.m. when I rolled back into the apartment.  I was still smiling.
Go Phillies!
P.S. The video is of Taylor Swift's rendition of the national anthem.  I didn't actually see her last night, because my seatmate and I were struggling to get to our section at the time.  I heard her performance, though, and I thought Swift did an amazing job.
What will I remember about this afternoon's game, which gave the Phils a 2-0 in the National League Championship Series?
I'll remember that Brett Myers pitched just well enough but, startlingly, had three hits (and three RBIs) of his own.
I'll remember how the Phillies, with two outs, managed in the second inning to score four runs on five hits (without a home run).
I'll remember a helluva catch by centerfielder Shane Victorino to end a two-out threat by the Dodgers in the seventh inning.
I'll remember Manny Ramirez's three-run, fourth-inning homer, which closed a six-run lead to three.  I'll remember that the hometown fans, who'd relaxed just a bit, tensed up.
I'll remember that it was unseasonably warm, like a June day—and almost too sunny for the first hour.
I'll remember how Brad Lidge got in a little bit of a jam, again, in the ninth inning, only to end the game with a strikeout of Nomar Garciaparra.
But, mostly, I'll probably remember the two guys sitting next to us (in Section 105, in the outfield)—how they fretted and yelled; how they hugged whenever anything good happened; how they spilled four (four!) beers, causing me to smell like hops; how one studiously ignored me, while the other slapped me (hard!) on the back and good-naturedly tried to high-five me; how one yelled at a Dodgers-jersey-wearing fan "not to dress like a fag," when he had gay men sitting on both his right and his left; how they were horrifying, and yet intriguing, to me.
What will I regret about this afternoon's game?
I'll regret that I didn't high-five enough strangers, or even the buddy who joined me.
I'll regret that I didn't start the game with a roast pork sandwich from Tony Luke's.
I'll regret that I didn't wear shorts.  (How many more chances will I get this year, anyway?)
But, mostly, I'll probably regret that I didn't purposely spill beer back on my crazy neighbors, apologizing for being a "clumsy fag."  Or slip one, or both, of them my phone number.
Final score: 8-5.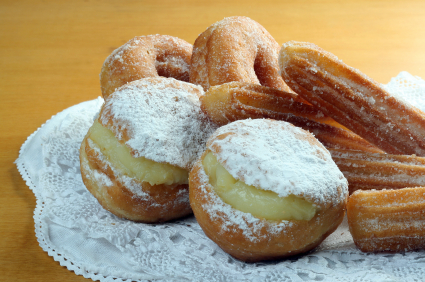 I haven't posted a collection of links in awhile.  I've just been too fixated on the Phillies, I guess.  No—wait!—it's not even possible to be too fixated on the Phillies.  Anyway, I haven't stopped wasting spending time on the web, so there's quite a backlog.