Archive for the 'Art' Category
Hey, long time no blog.
For once, there's a good reason, too.  Last Friday, I realized that—through the combination of Columbus Day and a couple of leave days—I had five free days ahead of me.  And no plans.  So I jumped on Travelocity, looking for someplace to go, someplace I could get to both cheaply and easily.  One destination stood out: Las Vegas.
I've been to Vegas at least once a year for several years in a row (and I'm headed there again in December for the National Finals Rodeo).  I'm comfortable there; there's always something to do; I know I'll have fun.  So I booked the trip.  Woo hoo!
That's how I found myself, on Sunday night at 10 p.m., at the Luxor for Cirque du Soleil's new show, CRISS ANGEL Believe.
(Yes, that's how Cirque spells it.  Creative capitalization and boldface, huh?  [Insert eyeroll here.])
If you know me well, you already know I'm a big, big fan of Cirque du Soleil.  In fact, after this visit to Las Vegas, I've seen all six Cirque shows currently playing there (and I think I've seen five of Cirque's traveling shows).  I don't have to be sold on Cirque shows.  I go into them convinced, already, that I'm going to have fun, be entertained, see something different.
But CRISS ANGEL Believe let me down.
I guess I should issue some disclaimers.  First, and most importantly, I got bird poop on me—on my face!—at the show.  Really. Now, I don't think I would've liked the show even if I'd gotten through it bird poop-free, but let me be clear: Getting bird poop on your face, at a fancy show, at a fancy show you paid $100+ to see, is absolutely unacceptable.  It's disgusting.  It's something you never forget.  Hmph.  Cirque du Soleil, you owe me a refund—at a minimum.
And I can't believe that Cirque hasn't figured out the problem of the bird poop on its own.  It must've occurred to someone that if the show has dozens of birds fly over the audience, every single night, there are going to be some, well, waste issues from time to time.  These birds are well-fed, I'm sure.  They're probably stressed, too—or, at least, not thrilled to be indoors with hundreds of people.  And, well, even if they weren't stressed, they'd still have to poop once in awhile, wouldn't they?
And when the birds flew over the audience on Sunday night, about 15 minutes into the show, I got slammed in the face, on my left cheek right below my eyeglasses, with a little chunk of nasty detritus.  Ewww.  Ewww city.  It stung, and it was foul.  I couldn't believe it.  What if it had hit me in the eye?  Won't it eventually hit someone in the eye?  Can you imagine having to leave CRISS ANGEL Believe because you've gotten bird crap in your eye?  If these birds fly over enough audiences, it's bound to happen, right?  Maybe it has already happened….  Gee.
Anyway, there I sat, in the middle of a row, in a dark theater, wondering how the hell I was going to get bird poop off my face, wondering if I could get some bird disease right there at the Luxor, wondering how Cirque du Soleil let something this stupid happen.  For a minute, I was stunned.  I didn't see how I could get out of my seat without disrupting the show for a dozen people….  I calculated, reevaluated.  When I looked around, I realized that I already had what I needed.  I had a napkin and a special $12 Cirque du Soleil mixed drink, apple-y and tasty.  I hated to sacrifice the drink, but, of course, I hated having bird poop on my face even more.  So I dipped my napkin into the drink and got to work on my face.  The drink had alcohol in it, right?  And it was wet.  It would get my face clean and, I hoped, kill any bird germs on my face.
As I said, I don't think I would've liked CRISS ANGEL Believe even if I'd had a poop-free evening.  And maybe my second disclaimer helps explain why: I just don't know Criss Angel's work.  I gather he's a well-regarded magician, with a TV show…but I've never seen his work, and I didn't even know about his TV show until I was sitting in the theater.  He seemed to have a lot of fans in the audience.  Maybe they were prepared to like the show, despite the incoherent plot, despite the lack of any impressive illusions, despite the lack of any Cirque-quality acrobatics or spectacle.  Maybe all they needed to see was Angel's innocent face.  Maybe they just needed to get close to his rock'n'roll vibe.
But that wasn't enough for me.
Truthfully—and this is my final disclaimer—I'm not even particularly interested in magic.  Or illusions.  Or whatever it is exactly that Criss Angel trades in.  But I absolutely think I could've enjoyed some good magic, especially if it had been integrated into a high-quality Cirque spectacle.  Instead, my audience got some birds produced out of thin air, Criss Angel (er, should that be CRISS ANGEL?) suddenly appearing ten feet from where he seemed to be, and Criss Angel split in two (temporarily, of course).  That's not enough magic for a magic show.
We also got a ridiculous plot line (why did there have to be a plot at all?), some good—but not great—dancing, and plenty of exposure to Criss Angel's impressive pecs and hair.
Oh, and I got the bird poop on my face.
No thank you, Cirque du Soleil.
I'm seriously bored boring this Labor Day weekend.  Thank goodness there's U.S. Open tennis on TV to keep me sorta halfway entertained.  If you need something to get you going, maybe one of these links will help.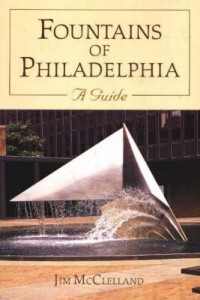 Is there ever a word or phrase that, no matter what you do, you just can't seem to remember?  I have that problem right now…and the word is 'shrapnel.'
Yes, 'shrapnel.'  I seem to have some kind of enduring mental block that keeps me from remembering it.  Not to worry, though!  I'm pretty sure this is not an early sign of Alzheimer's—at least I hope it's not—since the problem seems to be limited to this one word.  And, actually, I can remember having similar problems since childhood.  Sometimes, there'd just be a single word or phrase that repeatedly wouldn't quite come to me.
Of course, I can't remember the details of any of those childhood experiences now!  Hmm, I'm forgetful.
Why am I even trying to remember 'shrapnel' anyway?  Well, if I were actually talking about, or thinking about, something like shell fragments, the word 'shrapnel' would likely come to me with ease.  That's not why I'm trying to think of 'sharpnel,' though.  Nearly every day, I walk by a fountain in Philly—it's near where I work—that's built around a particularly, er, hard-to-like sculpture.  About a dozen years ago, one of my then-coworkers joked that the piece was probably named something like Shrapnel.  And he was so right.  The sculpture has a sort of post-Armageddon, Modernism-gone-horribly-wrong feel that, somehow or other, Shrapnel really captures.
So I'll be walking to or from work, and I'll pass by this sculpture.  I'll think of my coworker, remember how he was vexed by that sculpture, and then I won't be able to remember what he called it.  It'll almost come to me, but then it'll be gone.  In the past several years, I've gone weeks and even months when 'shrapnel' wouldn't come to me as the name of the sculpture.  Arrgh!
One recent morning, for whatever reason, I saw the fountain, and I remembered that the sculpture should be named Shrapnel.  When I got to my desk, I wrote the word down on a post-it note and stuck it on my computer monitor.  Since then, I've had a much easier time remembering.  Now I'm blogging 'Shrapnel,' too.  This is pretty much guaranteed, I'd say, to burn the word into my mind.
Of course, in a few weeks or months, there'll probably be some other word or phrase I can't quite remember.  Sigh.
Usually when I can't remember something, I simply try not to worry about it.  When there's no pressure, and I've allowed my conscious mind to move on to something/everything else, the unremembered will almost always come to me.  If that doesn't work, I sometimes resort to a related technique I've read about.  I imagine that there's an old, old librarian in my attic of my brain.  I climb up the ladder, knock, and ask him to find whatever I'm forgetting.  Then I force myself to forget about it.  Later, the missing piece of information will appear from seemingly nowhere.
But that won't be necessary for 'shrapnel.'  If I manage to forget it again, I'll be able just search the blog.  Ah, relief.
P.S. The fountain-sculpture combo is actually called Voyage of Ulysses.  That's its picture up there, on the cover of a book—a surprisingly good book, I've now discovered—called Fountains of Philadelphia: A  Guide.  (Strangely enough, I don't seem to have ever photographed the, er, piece.)
P.P.S. This post is also proof, I suppose, that I can conjure up a blog post out of thin air.