Archive for the 'Philly' Category
If the Phillies win this World Series, this is surely the game that everyone will remember.  After an afternoon of heavy rain, last night's game started an hour-and-a-half late and it didn't end until nearly 2 a.m.  By then, I was damp and chilled to the bone.  It didn't matter.  The Phillies kept it together, winning thrillingly in the bottom of the ninth to take a 2-1 lead in the series.  Jubilation!
I don't have any special insights into the play of the game.  MLB.com's coverage of the game is very good, and it details the crazy ninth inning—in which Eric Bruntlett (who relieved leftfielder Pat Burrell late in the game when the Phils had a good lead) was hit by a pitch, then stole second on a wild pitch, then immediately stole third when catcher Dioner Navarro's throw to second was itself wild.  After the Rays intentionally walked two Phillies to load the bases, Phils catcher Carlos Ruiz came to the plate and hit the first walk-off infield single in World Series history.  (This single occurred despite the Rays' use of five infielders.  In the stands, it took me a minute to figure out why one of the outfielders was running to the dugout.  He needed an infielder's glove.)  It was quite an end to a game that saw the Phillies take an early lead, only to let the Rays tie it in the eighth.  (The New York Times coverage of the game is good, too, and I read it as soon as I got home.  Also, check out the NYT's cool slide show.)
Earlier, as the rain came, in excess, in the afternoon, I wondered how I'd even get to the game.  A few minutes before I need to leave my apartment for the train station, I realized that service on the train line was suspended (thanks to some downed trees).  My seatmate was in Wilmington, having moved early in the day to a new house.  He wasn't, I knew, figuring on going out of his way to pick me up.  There was no doubt I was going to get to the ballpark, though, even if I had to take a cab from the burbs.  My seatmate rescued me, anyway, and our drive to the ballpark took us through torrential rain.  It seemed absurd to be going to a baseball game.
When we got to the park, we immediately got wet from the ankles down, as the parking lot was flooded.  I'd stay damp throughout the night.  At the ballpark, we eventually found a rail to lean on in the second tier (we were sitting in Section 204) and waited.  And waited.  An hour later, it was still pouring.  I started to hope the game would get rained out so I could come back on Sunday, which had a sweet weather forecast.  About 75 minutes after the game should've started, though, when it was still raining hard, the groundskeepers started taking the tarp off.  It seemed nuts.  But they knew what was about to happen: The rain was going to stop, and the game was going to start.  A little after 10 p.m., 45-year-old Jamie Moyer took the mound, and the game was on.
I can't say I enjoyed every minute of the game.  I enjoyed it when the Phils took the early lead, of course.  But after the rain left (and it did leave for good, before the first pitch), it was replaced by a strong, chilly wind.  I'd worn layers, but I guess I should've worn gloves.  My fingers, and the tip of my nose, started to hurt.  I kept warm by jumping up (a lot), clapping (a lot), and high-fiving my neighbors (a lot).  When the Rays tied the game in the eighth, though, I wondered how I'd survive too many extra innings.  I would've stayed as long as necessary, but it would've hurt.  Thanks to Eric Bruntlett and Carlos Ruiz, I didn't have to find out how much it actually would've hurt.
It was nearly 3:25 a.m. when I rolled back into the apartment.  I was still smiling.
Go Phillies!
P.S. The video is of Taylor Swift's rendition of the national anthem.  I didn't actually see her last night, because my seatmate and I were struggling to get to our section at the time.  I heard her performance, though, and I thought Swift did an amazing job.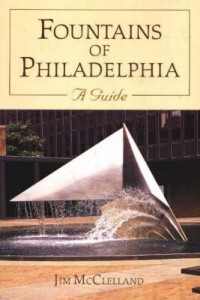 Is there ever a word or phrase that, no matter what you do, you just can't seem to remember?  I have that problem right now…and the word is 'shrapnel.'
Yes, 'shrapnel.'  I seem to have some kind of enduring mental block that keeps me from remembering it.  Not to worry, though!  I'm pretty sure this is not an early sign of Alzheimer's—at least I hope it's not—since the problem seems to be limited to this one word.  And, actually, I can remember having similar problems since childhood.  Sometimes, there'd just be a single word or phrase that repeatedly wouldn't quite come to me.
Of course, I can't remember the details of any of those childhood experiences now!  Hmm, I'm forgetful.
Why am I even trying to remember 'shrapnel' anyway?  Well, if I were actually talking about, or thinking about, something like shell fragments, the word 'shrapnel' would likely come to me with ease.  That's not why I'm trying to think of 'sharpnel,' though.  Nearly every day, I walk by a fountain in Philly—it's near where I work—that's built around a particularly, er, hard-to-like sculpture.  About a dozen years ago, one of my then-coworkers joked that the piece was probably named something like Shrapnel.  And he was so right.  The sculpture has a sort of post-Armageddon, Modernism-gone-horribly-wrong feel that, somehow or other, Shrapnel really captures.
So I'll be walking to or from work, and I'll pass by this sculpture.  I'll think of my coworker, remember how he was vexed by that sculpture, and then I won't be able to remember what he called it.  It'll almost come to me, but then it'll be gone.  In the past several years, I've gone weeks and even months when 'shrapnel' wouldn't come to me as the name of the sculpture.  Arrgh!
One recent morning, for whatever reason, I saw the fountain, and I remembered that the sculpture should be named Shrapnel.  When I got to my desk, I wrote the word down on a post-it note and stuck it on my computer monitor.  Since then, I've had a much easier time remembering.  Now I'm blogging 'Shrapnel,' too.  This is pretty much guaranteed, I'd say, to burn the word into my mind.
Of course, in a few weeks or months, there'll probably be some other word or phrase I can't quite remember.  Sigh.
Usually when I can't remember something, I simply try not to worry about it.  When there's no pressure, and I've allowed my conscious mind to move on to something/everything else, the unremembered will almost always come to me.  If that doesn't work, I sometimes resort to a related technique I've read about.  I imagine that there's an old, old librarian in my attic of my brain.  I climb up the ladder, knock, and ask him to find whatever I'm forgetting.  Then I force myself to forget about it.  Later, the missing piece of information will appear from seemingly nowhere.
But that won't be necessary for 'shrapnel.'  If I manage to forget it again, I'll be able just search the blog.  Ah, relief.
P.S. The fountain-sculpture combo is actually called Voyage of Ulysses.  That's its picture up there, on the cover of a book—a surprisingly good book, I've now discovered—called Fountains of Philadelphia: A  Guide.  (Strangely enough, I don't seem to have ever photographed the, er, piece.)
P.P.S. This post is also proof, I suppose, that I can conjure up a blog post out of thin air.
I don't really have much to report from my attendance at last night's game.  The Phillies were offensively in-offensive.  Or something.  My pre-game roast pork sandwich was good but not life-altering.  Worst of all, I didn't meet the Handsome Stranger™ of my dreams.
I did have some delicious post-game mead at Tria Cafe.  I guess that's something.
The mead was Makana's ¡Qhilika African Herbal Blossom Mead, which I blogged about at the old homestead.  It's a South African mead flavored with—among other things—rosehips, cinnamon, apple, and licorice.  It's spicy enough to sort of counteract the sweetness of the honey, and it's sweet enough that you don't feel like your swigging something from your spice rack.  In other words, it's well balanced.  It's mighty tasty, and I highly recommend it.
I paired the mead with a delicious banana, goat's milk caramel, and mascarpone panini.  Zowie!  The sweetness of the dessert helped to sharpen the spiciness of the mead.  When I visit Tria, I usually pair my dessert with a good beer, but the Makana mead was a nice change of pace.
(By the way, it looks to me like Makana may have changed the name of its African Herbal Blossom Mead to Honey Sun African Mead.  Does anyone know for sure?)