Archive for the 'Clothing' Category
Since I'm on a long holiday weekend, you're getting the week's reading a little early.
In my opinion, Mary Carillo is the best tennis announcer on television.  This weekend, of course, she's covering the Wimbledon finals for NBC.  She's too artful to say anything negative about grass-court tennis during this fortnight, and all that serve-and-volley tennis is definitely fun.  But grass-court tennis can be a little too much about power and quick points for me.  And apparently for Carillo, too.  A few years ago, she explained—in a piece called "Living Life on Clay"—why she wanted her children to live like clay-courters.  Here's a taste:


[M]y wish for them is to dream in different languages, to build a character that translates well everywhere in the world. I want them to live their lives as though they were playing them out on clay.

. . . .

There is great comfort in consistency-always having someone, or something you can trust.

Life demands great discipline and deep daring.

And a fatigued mind makes bad decisions.

Don't get easily depressed. It's amazing what a stout heart and a nimble mind can do if you're resilient enough to stay the course.

The reward is the journey.

Read the whole thing. It's one of the most literate, moving pieces I've seen a TV sports journalist produce.

ChaliceChick of The Chaliceblog has actually printed up an FAQ sheet to hand people who ask about her new SmartCar.  Really.  As I said in CC's comments, it's brilliant.
Would you like to see how the Humpdome was transformed over a few hours from a baseball to a football stadium?  Of course you would.  And when you're impressed with photographer John Loomis's work, you'll want to check out his portfolio.  Loomis blogs, too.
Everywhere, I suppose, men can't be trusted on the internet to give their correct ages, heights, and—euphemism alert—"intimate details."  We now have confirmation from Pakistan, anyway.  (NSFW?)
Tell me I don't need this wallet, or this one, or this one.  But, er, if I was going to buy one of these wallets I don't need, which one should it be?  Advice, please.  Oh, wait.  What about this one?  (Link via Josh Spear)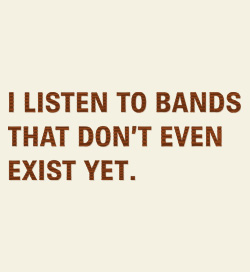 …that one of my new Threadless t-shirts was a big, er, hit at the Phillies-Mets game on Saturday. People kept checking out the shirt, trying to figure out what it said/meant, and smirking when they "got" it. But I was still surprised when—while standing in a long, long line for a helmet sundae with sprinkles (shut up!)—a young, handsome, probably (slightly) buzzed dude approached, told me he'd laughed out loud, and did the fist pound with me. Then he offered to buy me a beer!
All because I listen to bands that don't even exist yet.
I have a new favorite t-shirt. And next time, I'm totally saying yes to the beer.