Archive for the 'Gay' Category
What caught my attention this week?
Shaving is something I just don't do very well. My dad never taught me how to use a straight (hmm) razor. And when I've tried on my own, I've left the bathroom bloodied and bandaged. I surrendered long ago to the electric razor and the imperfect results it provides. So this Philadelphia Inquirer article on shaving as "the new hot skin-care market" caught my eye. And having read it, I think I'll be scheduling an appointment soon at Shaving Grace Barbers:


"Most guys don't prepare their face at all," said Michael Sgarra, a co-owner and barber at Shaving Grace in Exton, which offers beer on tap, a pool table, and professional shaves and haircuts (way more than two bits.) "Some are dry-shaving in the shower. Some just use soap. It's pretty horrible."

At Sgarra's shop, the process begins with a series of hot towels to open the pores and soften the hair. Then they put on a pre-shave oil, another series of hot towels, hot foam and shave twice."

Shaving Grace sounds like the best place on Earth. Beer, pool, and getting a shave? I'm in. And according to Shaving Grace's website, I can even get a massage there.

This isn't entirely shocking for me, but a NYT article notes that same-sex relationships are more egalitarian than opposite-sex relationships. Notably, "[t]he egalitarian nature of same-sex relationships appears to spill over into how those couples resolve conflict…. [According to one study, same-sex couples] tended to fight more fairly than heterosexual couples, making fewer verbal attacks and more of an effort to defuse the confrontation." Also, belligerence and domineering were less common in same-sex relationships.Cool! Now just exactly how do I get myself one of those relationships?!
What a great gig! Peter Meehan, who usually writes the "$25 and Under" reviews for the NYT's Dining Section, traveled to 12 ballparks around the country to sample the food. And it sounds like a lot of it was pretty darn good. Meehan really liked the offerings at our very own Citizens Bank Park, especially Chickie & Pete's crab fries, already my favorite; Tony Luke's roasted pork; and the Schmitter—a sandwich built with cheese, salami, cheese, beef, and more cheese. I have to remember to get a Schmitter at some point this season….And if I'm ever in Seattle's Safeco Field, I'm going to have an Ichiroll, a spicy tuna roll named (duh) after the veteran centerfielder.
This week, I particularly enjoyed Sushicam's photographs of a commuter train and some big fish. And Daily Dose of Imagery showed us the smart, apt advertising used on the streets by Toronto's World Wild Short Film Festival. Ha!
And, of course, it makes sense to end with A Cheese Map of Canada. Enjoy.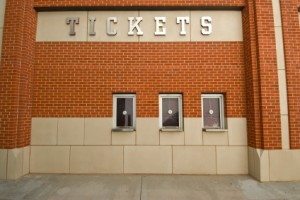 A few months ago, on the old website, I hatched a plan to, well, trap myself a man. The plan was to buy season tickets to Something or Other—and invite dashing, eligible men to go with me. That way, I'd have an "excuse" to ask them out ("hey, I have this extra ticket that's going to waste"), and I'd be hanging out with guys with similar interests.
I didn't get my act together early enough to buy more than a handful of Flyers tickets, but I'm now the proud owner of a pair of tickets to 17 Phillies games this year. Actually, I'm now the owner of tickets to 16 games, as I used the first pair last Thursday (for an exciting, if chilly, come-from-behind victory over the Nationals). If you're looking for me, that's me in Section 211, hoping, desperately, that no one too tall will be sitting in Row 5, Seat 6, directly in my line of sight.
So now comes the hard part. How do I actually use this Man Trap? To meet men, I mean. I really don't have a clue.
So far, I've been inviting dashing, eligible—but presumptively straight—men to hang out with me. I'm asking friends, or acquaintances, and that's really not the point of the Man Trap. For Friday night's Flyers game, for instance, I asked a former colleague. True, I've had a crush on him since about 15 minutes after we met, but surely I'd know by now if he might be interested in me. And for my first Phillies game of the season, I asked an absolutely cool current colleague. (P.S. If either of these men is not 100% straight, please let me know. ASAP.)
Now, of course, I had fun hanging out with these guys. They're friends, after all. And I suppose I should just be happy to have good friends to hang out with. It's better than sitting home alone. Or going everywhere by myself.
I just haven't figured out how to meet dashing, eligible, gay men who might be interested in Flyers or Phillies games, or avant garde music, or bluegrass music, or any of the other events I'm likely carrying tickets for these days. Do I take out a personals ad, highlighting my Phillies fandom? I'm already on all the usual gay dating sites, and that hasn't gotten me anywhere. My friends aren't any help, either. Doesn't anybody fix their friends up anymore? Because, God knows, I obviously need the help.
Now that I have the bait, I don't know where to set the Man Trap.
Aargh.