Archive for April, 2008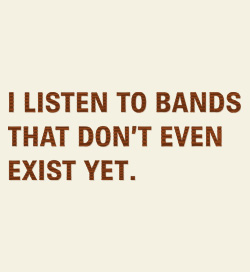 …that one of my new Threadless t-shirts was a big, er, hit at the Phillies-Mets game on Saturday. People kept checking out the shirt, trying to figure out what it said/meant, and smirking when they "got" it. But I was still surprised when—while standing in a long, long line for a helmet sundae with sprinkles (shut up!)—a young, handsome, probably (slightly) buzzed dude approached, told me he'd laughed out loud, and did the fist pound with me. Then he offered to buy me a beer!
All because I listen to bands that don't even exist yet.
I have a new favorite t-shirt. And next time, I'm totally saying yes to the beer.
Gosh, it's been awhile since I posted. I need to do better. But I've been busy with the usual things—work [insert eye roll here], Phillies games, beer, rooting my Fly-boys into the next round of the NHL playoffs, and spending way, way, way too many hours working on [dang, this is kind of embarrassing] my fantasy tennis games.
On Tuesday, I caught my second game of the baseball season from my perch in Citizens Bank Park's Section 211, accompanied this time by a different co-worker. Yes, the plan to use my season tickets as a man trap is still a work-in-progress. Instead, I keep inviting colleagues—men, mostly straight, who are sports fans but not a single one who's likely to evolve into the beer-drinking, baseball-addicted boy toy of my dreams. It is good to spend time at the ballpark with a friend, though. And since it's not a date, I don't have to worry too much about how my hair looks…. [That was a joke. Really.]
Anyway, Tuesday night's game was a chilly affair, but the hometown fans who stuck it out were rewarded with an almost unbelievable, come-from-behind victory in the bottom of the ninth. Trailing 3-0 to the Astros, the Phils strung together a comeback with an improbable home run from a just-added player; a hit batsman; a homer from hunky [see, it's always gay when I'm at the ballpark] Pat Burrell; a stolen first base after a strikeout by Geoff Jenkins; and a probably unwise trip home by Jenkins, who missed the third base coach's stop sign after Pedro Feliz's game-winning double. Wow. After all that, the teeth-chattering I'd suffered for the last half of the game suddenly didn't matter so much.
Yesterday afternoon, I was back at the ballpark, catching my first Phillies-Mets game of the season. I met yet another colleague [this one gay, if not at all a likely candidate for the man trap]. It was a gorgeous day for a game, springlike and sunny, and I even broken open the sunscreen for the first time this year. The Phillies' offense was pretty lackluster, though. Half the team, it seems, is injured. And Chase Utley, who went two-for-four and homered, just can't carry the whole team. The Evil Mets won, 4-2. Bummer, huh?
What else did I do this week? Well, there was some beer—not all of it at the ballpark. [<Digression>The beer selection at the ballpark is better than you'd think, but it's not superb. I usually stick to Victory's HopDevil. I normally rail against hops-heavy American craft beers, but HopDevil is good—and it's one of the best things I'm going to find at Citizens Bank Park.</Digression>] On Monday night, I was at another beer-tasting at Tria's Fermentation School. The session was devoted to La Trappe Brewery, one of the seven remaining Trappist breweries in the world and the only one in the Netherlands. [The rest are in Belgium, of course.] In the States, La Trappe beers are sold as Koningshoeven beers for reasons attributable to church politics…. I was smitten with the Koningshoeven Bock, the Koningshoeven Tripel, and the Koningshoeven Quadrupel—which was my favorite of the night, all caramel and goodness. I was also smitten with one of the brewers [not a monk, Mom!], Gijs Swinkels, but even the slightly buzzed me recognized the futility of making a pass at a straight man from another continent.
So that's pretty much what I've been spending my time on. Baseball and beer. And, well, perfecting my entries in Tennis Channel and ATP fantasy games. [Hmmm, this could explain why I'm still single.] My picks for this week's U.S. Men's Clay Court Championship were, I thought, stunningly good. I even correctly put the way unheralded Marcel Granollers Pujol into the final on my bracket. [I did not have him upsetting James Blake to take the title, however.] And despite this prescience, I still only barely finished in the Top 200 [190th out of 1733 entries]. How good do I have to be, anyway?
On Saturday, three friends and I went to Philly's Kimmel Center for the last installment of this season's Fresh Ink series, which features crazy weird strange "new" music. I've been a subscriber of the series for several years because, well, I like to experience, er, "new" things. Saturday night's concert was my favorite of the season.
The program featured works of contemporary composer-guitarist Phil Kline. I was particularly looking forward to Fear and Loathing, a song cycle built around the writings of gonzo journalist Hunter S. Thompson. (Remind me to explain sometime how/why HST's Fear and Loathing: On the Campaign Trail '72 changed my life.) But it was a different piece, Zippo Songs, that really captured my attention.
Zippo Songs is a song cycle of poems written by Vietnam-era American GIs and engraved on their Zippo lighters. The texts are shrewd, funny, profound, imaginative, crisp. As an example, here's a snippet from one poem that seems to summarize, in an incredibly cogent way, the American experience in Vietnam:
We are the unwilling
Led by the unqualified
Doing the unnecessary
For the ungrateful
An amazing vocalist, Theo Bleckmann, sang the Zippo Songs. At once ethereal and soldierly, Bleckmann's vocal performance was the talk of the theater at intermission. And it's what my friends and I talked about during an after-concert debriefing over beer, wine, and Italian food. I've been checking Bleckmann's website out tonight, and I'll be investigating his CDs soon. In a single night, I developed a real music-crush on him….
If you're interested in Zippo Songs, and you ought to be, check out this NPR story from 2004. On that same page, you can listen to three of the songs, performed by Bleckmann. Highly recommended.