Archive for May, 2008
Here's what captured my attention this week:
What were you reading this week?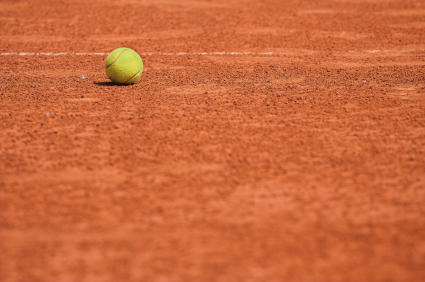 As I've mentioned before, a bit sheepishly, I play fantasy tennis games. Yes, I'm that big of a tennis fan. I'm that big of a tennis nerd. I'm that big of a nerd.
I play these games even though I never win anything. And I never will. There are so many other tennis geeks out there that I get excited if I finish in the top 300. In this year's ATP Fantasy Game, for instance, I'm truly excited to be in 2,675th place (out of 9,477 entries). That's the top-third, man.
Truthfully, though, I'm pretty good at picking tennis matches, particularly the first couple of rounds at the Grand Slams. I follow the sport closely enough that I really do know that Steve Darcis and Ivan Ljubicic have an interesting history. I'm watching enough tennis to know when a seeded player (hi, Carlos Moya!) is going to fall to the first competent clay-courter he faces. During the ongoing French Open, I knew going in that wildcard Jeremy Chardy was going places. I'm that deep in the tennis arcana.
So yesterday, when I got the first emailed reminder to check the standings in the Tennis Channel's Racquet Bracket for the French Open, I was pretty ho-hum about it. I knew my first- and second-round picks for the French Open had been ok, but I also knew that a bazillion other tennis fans were playing, too.
When I logged in, I nearly fell over. I was in 7th place. Out of 3,737 entries. Wow! I did, in fact, gasp. Today, I dropped to 9th place, but I was no less excited to see my name nom de tennis on the very first page of the standings. Woo hoo!
Now I know I'm not going to win. A couple of players I had going deep have already bowed out. Juan Carlos Ferrero, for instance, retired in the first round with a leg injury while he was leading (egad). And Juan Mónaco (I like Juans, you know), the 13th seed, lost in the first round, dang it. I imagine I'll drop more and more every day until the Top 10 seems like a distant galaxy.
But the past couple of days, I've felt like I'd somehow developed a wicked kick serve. Suddenly I had a serve-and-volley game.
Stand back: I'm taking the net.
I skipped the last Phillies game in my season ticket package because it was darn cold and I needed to pack for my trip to Santa Fe. So…despite tonight's forecast for thunderstorms, I headed out to the ballpark to see the Phils take on the Rockies. I owed it to the Phillies, you know?
The Phillies took a seven-run lead in the first two innings, as the skies darkened significantly. In the stands, there was tension. We wondered whether we'd get through four-and-a-half innings so the Phillies would get the win and not a rain-out. After the Rockies' third out in the top of the fourth, Phils starter Kyle Kendrick got a huge ovation. Relief!
It actually didn't start to rain—significantly, anyway—until the eighth inning. Quickly enough, it was pouring. I took shelter near, um, an ice cream vendor for awhile. But during the bottom of the eighth, when the lightning started and when the tarps came out, I headed home. I've only ditched a game early a couple of times in my life, but it looked like this rain was going to last a long time.
Just as I was getting home, the game finished. The Rockies closed in some, mostly due to Tom Gordon's poor "relief" pitching and what scorekeepers call "defensive indifference" (i.e., when a team is so far ahead that it's willing to concede runs to get outs). But I'll take a 7-4 win any day.
The most puzzling part of the evening was a freebie handed out by the Phillies. It's a ballcap, a pretty bland, white ballcap, one with the cheapest possible plastic clasp. It reads: FIGHTINS Philadelphia Phillies.
FIGHTINS?
The hell? When the Phillies employee handed me the cap as I entered the stadium, I shot him a look, I guess. "I don't know what it means," he shrugged. Several hours later, I still don't have a clue. Not Fightin' Phillies. FIGHTINS Phillies. Hmm, it's pretty preposterous.
FIGHTINS?
Someone…anyone, enlighten me.
Update #1 (5/28/08): The 700 Level has some great pictures from last night's games. Cool clouds, huh?
Update #2 (5/28/08): I've been informed that Fightins is a legitimate, if little-used, nickname of the Phils. Hmm, ok. A Google search for Fightins returns only about 6,000 hits (versus, say, about 3 million for—randomly, I know—"rhinitis"), but most of them seem to be actual references to the Phillies. The term has even appeared—again, if rarely—in the inquirer and Daily News. Some of these references add an odd apostrophe (Fightins'), but that's another battle, I suppose. Oh, and also: There's even a new Phillies-oriented blog called The Fightins'. So, ok, I surrender. I've been a Phillies fan for a long time, and I ain't never heard anybody call 'em The Fightins, but apparently it was time I did. It still doesn't make any sense, though.