Archive for May, 2008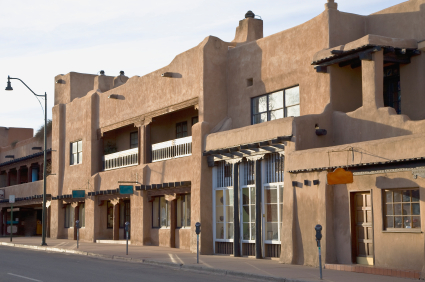 Damn, I've been away awhile. Where was I, anyway?
Actually, I have a pretty good excuse for my absence. I spent all of last week in Santa Fe, for a conference as well as a little pre- and post-conference relaxation. The week before that, I was in, well, a frenzy. I over-booked myself, and I had to get myself ready to go to New Mexico. It's a lot of work to get ready for vacation, you know?
Before I left for Santa Fe, I attended Game 3 of the Flyers' doomed playoff series against the Penguins. The Fly-boys lost, and—really—they deserved to. After two periods of play, they'd managed only a mere eight shots on goal. Ugh. It was a long night, made even longer by the facts that (i) I'd paid $300 for a seat in the Club Section (it was all I could get at the last minute), (ii) the three guys to my right were more interested in making a deal than in hockey, and (iii) the guy to my left arrived in his seat well-lubricated enough to think that his large, pointy elbow deserved a home somewhere in my ribcage. The highlight of the evening was probably the Flyers' desperation call-up of Kate Smith, who—just as she had in the last regular-season game that I saw—appeared from the afterlife to sing "God Bless America" as a duet with the usual anthemist. Or maybe the highlight was the gigantic XL orange t-shirt the Flyers gave fans so we'd look like some kind of tangerine-colored menace to the folks watching on Versus. It's a tough call.
The very next night I caught a performance of Cirque du Soleil's KOOZA. As you may know, I'm completely smitten with Cirque du Soleil: If I had any nerve talent, I'd quit my job and join the troupe [notice my purposeful use of the French-ish spelling]. Since I last compiled my Cirque du Soleil resume (at the old site), I've seen both Mystère and KOOZA. I remember Mystère, which I saw in Las Vegas in December, as one of Cirque's most traditional (i.e., circus-y) shows. KOOZA, too, is pretty "normal," heavier on acrobatics and clowning than most Cirque offerings. I absolutely enjoyed the show. In fact, I'd rank it among the top half of the nine(!) Cirque shows I've seen. Which one should I see next?
On Saturday, I flew to Albuquerque (grumble: my bag flew the next day). On Sunday, I caught Game 1 of a doubleheader between the Albuquerque Isotopes and the Omaha Royals. I'm a big fan of the Kansas City Royals, so I probably should've rooted for their AAA squad. But how can a Good Guy™ root against the home team at a minor league park? Good Guy™ can't, of course…. It was an enjoyable, action-packed game, and the Isotopes prevailed, 11-2. I came away from the game with a snazzy t-shirt, a ballcap, and a little bit of heartburn from the Indian taco and Bananas Foster (really). Given the team's nickname, I knew there'd be some cool atomic-inspired merch to be had, and I was right. I'll probably be explaining that weird symbol on the ballcap for years….
The next day, I took a shuttle to Santa Fe, nestled beautifully in the Sangre de Cristo Mountains (the southernmost range of the Rocky Mountains). My presentations at the conference went well, and then I was free to enjoy the local offerings. I had plenty of Santa Fe Pale Ale and more than a couple of margaritas. I had enormous quantities of tortilla soup and enchiladas. (I'm still not sure about the cactus salad I had one day for lunch.) I wandered the cute downtown, centered—naturally—on an old-time Plaza. And I browsed art galleries and higher-end boutiques than I usually visit (Mom, do not ask about my credit card balances). I came back with two cool shirts and several books, but, sadly, I did not find the turquoise bolo of my dreams.
On my last full day in Santa Fe, which was rainy and almost downright cold, I visited the New Mexico Museum of Art and the Georgia O'Keeffe Museum. Of the two, I'd have to recommend—pretty highly, too—the former. The Museum of Art's ongoing exhibition, How the West Is One, really captured my attention—especially as it moved from the fairly predictable early Western pieces to more modern pieces affected by the crazy Hispanic-Pueblo-Anglo influences of Santa Fe. I was so impressed that I lugged home the 20-pound exhibition catalog. For lazy me, that's a high compliment.
The O'Keeffe Museum was closed for most of the week, and I made it there on the day it reopened with a new exhibit, Georgia O'Keeffe and Ansel Adams: Natural Affinities. The O'Keeffe-Adams combination seemed pretty darn forced to me, designed more to attract tourists than display any artistic similarities. Going in, too, I was a little miffed that so much of the exhibition space would be devoted to non-O'Keeffe works. But in the end, it was an Adams photograph, Moonrise, Hernandez, one of his most famous, that I'll probably remember best. It shows a beautiful rising moon in an incredibly spacious sky, all over an idyllic New Mexican rural scene. I want to inhabit that space.
As for Santa Fe, well, it's definitely beautiful, but I'm not at all sure I'd want to live there. It didn't seem entirely real to me. The downtown was, I'm sure, consciously made "Western" some 100 years ago to appeal to tourists. And I couldn't quite shake the feeling that the intervening century hadn't made the scene any more real. I felt like I ought to like the town, though. I enjoyed the countercultural bookstores and the galleries, and I definitely enjoyed the beer and food. I just felt like the locals had gotten so used to "performing" the West that they'd forgotten who/what they really were. Does that make any sense?
I'm back home now, unpacked and laundered-up enough for the work week ahead. That, at least, makes me nostalgic for Santa Fe. Work, after all, is hard to take after a little vacation.
I spent a couple of days at the end of the week in Atlantic City. I'm not really an Atlantic City kind of guy, I swear. (I'm a Vegas guy. [Yeah, right. I wish.]) I'm not interested in playing slots, saltwater taffy doesn't do that much for me, and I don't have pleasant childhood memories of the Jersey Shore to draw on (I grew up 1,500 miles away, after all). Plus, when you venture about a block away from the boardwalk, you find yourself in what's really a pretty sleazy, depressing town. If I want to get that I'm-about-to-be-mugged feeling, I can do that a lot closer to home.
So what drew me to Atlantic City? Country singer Gary Allan. I've seen him in concert three times now, and I have to say he's pretty darn amazing.
Now, I'm not at all a fan of what passes for music on modern country stations. My tastes run toward "real" country music: Hank Williams (Sr., of course), Ernest Tubb, Kitty Wells, Merle Haggard, Loretta Lynn, and the like. But in my opinion, Allan—who somehow manages to get radio airplay—is the real deal. He's got the voice. He's got a Johnny Cash-quality swagger. And he's damn good in concert, where he really connects with the fans.
I first paid attention to Allan when I heard his cover of Vertical Horizon's "Best I Ever Had (Grey Sky Morning)." Actually—and this is a little bit embarrassing—I didn't realize for quite some time that Allan's "Best I Ever Had" was the cover. He just owns the song. His version makes it one of the saddest, most heartfelt country songs ever:
So you sailed away into a grey sky morning
Now, I'm here to stay, love can be so boring
Was it what you wanted?
Could it be I'm haunted?

But it's not so bad
You're only the best I ever had
You don't want me back
You're just the best I ever had

I've grown to like Vertical Horizon's dreamy, alternative "Best I Ever Had," but it doesn't make me feel the heartbreak like Gary Allan's does. And, in fact, that entire album of Allan's, 2003's Tough All Over, has some of the best sad songs I know ("Life Ain't Always Beautiful," "Ring," "He Can't Quit Her," "I Just Got Back from Hell"). If you know the back story, that makes sense because Tough All Over was sort of Allan's musical processing of his wife's suicide. I'm a sucker for a sad song, and Tough All Over has good, quality sad songs aplenty. I'd have to say it's one of my two or three favorite albums ever.
Allan is touring with a new album now. Living Hard isn't quite so thoroughly sad, naturally enough. It rocks some ("Like It's a Bad Thing" and the title track, for instance), but it's got some quality sad songs, too. I'm particularly enjoying "She's So California," "Half of My Mistakes," and "Watching Airplanes."
So, yeah, Gary Allan drew me to Atlantic City and the House of Blues. I sat back, armed with a significant quantity of Jack and Coke, and enjoyed. He fired the place up. He made Atlantic City seem like a good place to be. And for me, that's really saying something.