Archive for December, 2014
I'm awfully proud of the set I put together on Sunday on the Tulsa International Airport's jukebox—which broadcasts throughout the passenger terminals. The bit that starts with "Okie from Muskogee" and ends with the Village People's "In the Navy" and Frankie Goes to Hollywood's "Relax" is downright inspired, right?
It speaks to me, anyway. But I guess it would.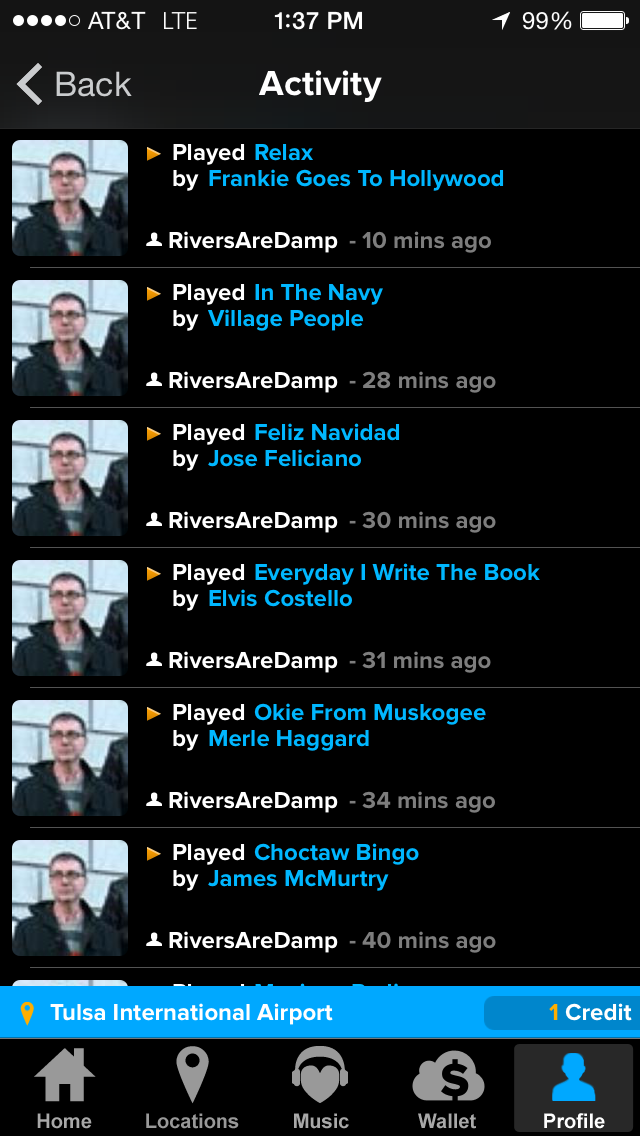 Before I post my Top 10 albums of 2014, I need to do some clean-up here. And post a list of my top albums of, well, 2013. Finally. Gosh, I'm slow. So ashamed!
Because of the, erm, timeliness of this, I'm just going to provide a list: No boring commentary this time. Maybe I'll do better when I post—in a more timely fashion, I promise—my list for 2014.
Drumroll, please!
10. AM, Arctic Monkeys
9.
Bad Religion's True North
8.
Miracle Temple by Mount Moriah
7.
Bassekou Kouyate & Ngboni Ba's Jama Ko
6.
Rule the World by Max Gomez
5.
Coming Tide, Luke Winslow-King
4.
Impossible Truth, William Tyler
3.
Like a Rose by Ashley Monroe
2.
Christian Kjellvander's The Pitcher
And my favorite album of 2013
is
was . . .
1. Southeastern by Jason Isbell
Honorable mentions
:
Honky Tonk
, Son Volt;
Set You Free
, Gary Allan;
Aheym
, Kronos Quartet with Bryce Dessner; and
San Fermin
by San Fermin.