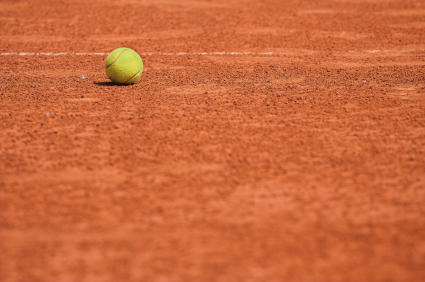 As I've mentioned before, a bit sheepishly, I play fantasy tennis games. Yes, I'm that big of a tennis fan. I'm that big of a tennis nerd. I'm that big of a nerd.
I play these games even though I never win anything. And I never will. There are so many other tennis geeks out there that I get excited if I finish in the top 300. In this year's ATP Fantasy Game, for instance, I'm truly excited to be in 2,675th place (out of 9,477 entries). That's the top-third, man.
Truthfully, though, I'm pretty good at picking tennis matches, particularly the first couple of rounds at the Grand Slams. I follow the sport closely enough that I really do know that Steve Darcis and Ivan Ljubicic have an interesting history. I'm watching enough tennis to know when a seeded player (hi, Carlos Moya!) is going to fall to the first competent clay-courter he faces. During the ongoing French Open, I knew going in that wildcard Jeremy Chardy was going places. I'm that deep in the tennis arcana.
So yesterday, when I got the first emailed reminder to check the standings in the Tennis Channel's Racquet Bracket for the French Open, I was pretty ho-hum about it. I knew my first- and second-round picks for the French Open had been ok, but I also knew that a bazillion other tennis fans were playing, too.
When I logged in, I nearly fell over. I was in 7th place. Out of 3,737 entries. Wow! I did, in fact, gasp. Today, I dropped to 9th place, but I was no less excited to see my name nom de tennis on the very first page of the standings. Woo hoo!
Now I know I'm not going to win. A couple of players I had going deep have already bowed out. Juan Carlos Ferrero, for instance, retired in the first round with a leg injury while he was leading (egad). And Juan Mónaco (I like Juans, you know), the 13th seed, lost in the first round, dang it. I imagine I'll drop more and more every day until the Top 10 seems like a distant galaxy.
But the past couple of days, I've felt like I'd somehow developed a wicked kick serve. Suddenly I had a serve-and-volley game.
Stand back: I'm taking the net.
Leave a Reply